FCRA Cancelled List: Government had cancelled FCRA licenses of over 20,600 NGOs in the last 10 years. Most of these cancellations were done on account of non-filling of annual returns which is a mandatory requirement. The registration certificates of more than 20,600 NGOs and associations have been cancelled during the period from 2011 till date, for violation of various provisions of the Foreign Contribution Regulation Act.
As per the amended law, providing Aadhaar numbers of the office bearers of the NGOs has been made mandatory for registration of NFOs under the FCRA. Besides with the amendments, office expenses were brought down to 20% from 50% and election candidates, government servants, members of any legislature and political parties were prohibited to accept foreign funding.
FCRA Cancelled List
According to the rules issued after amending the FCRA, NGOs, which intend to receive foreign funding must have an existence of at least 3 years and spent Rs. 15 lakh in voluntary activities prior to their applications. The NGOs will also have submit a specific commitment letter from the donor indicating the amount of foreign contribution and the purpose for which it is proposed to be given. FCRA Cancelled List is given below.
How to check FCRA Registration Cancelled List
Complete process to check FCRA registration cancelled list is given below step by step.
Step 1 : Visit Ministry of Home Affairs official website https://fcraonline.nic.in.
Step 2 : At home page, click at List of Associations whose registration has been cancelled.
Step 3 : To check FCRA registration cancelled list, click on the direct link https://fcraonline.nic.in/fc8_cancel_query.aspx.
Step 4 : Registration Cancelled page will open, select state and click on "Search" button.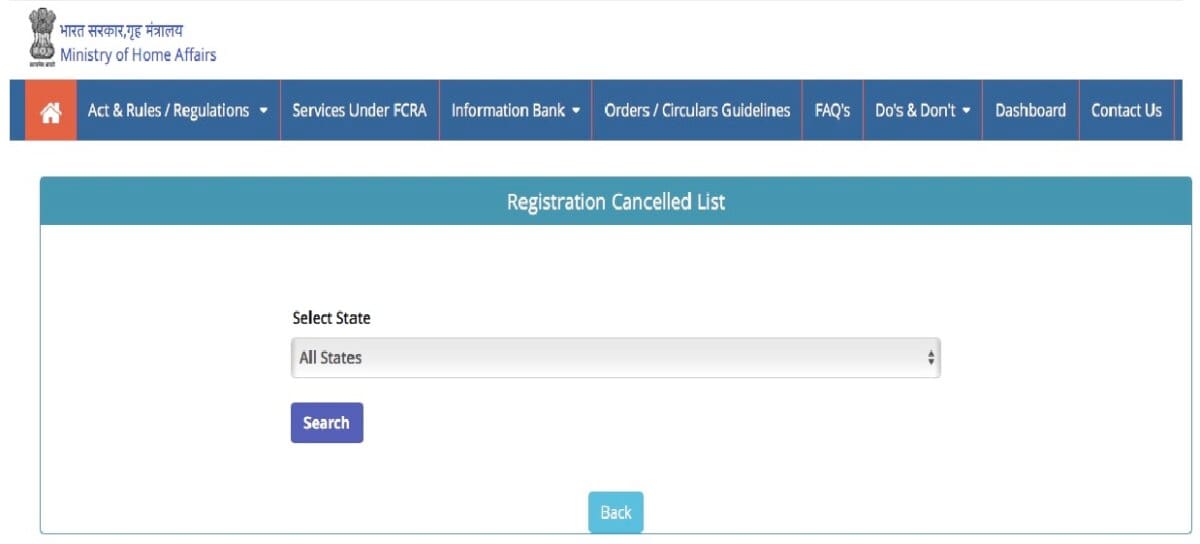 Step 5 : Cancellation list of selected sate will open as shown below.
Helpline
Contact details for FCRA Services is given below.
List of Contact for FCRA Services
Also Read :
Government Health Schemes List in India | All Govt. Health Insurance Schemes