UK Holidays List 2022 PDF | UK Bank Holidays List 2022 | School Holidays List 2022 United Kingdom | UK Holidays Calendar 2022
The holiday is usually a happy day. It is a day of leisure and relaxation. This is the dau to settle the pending household chores. It is a day to meet friends and get good news from acquaintances.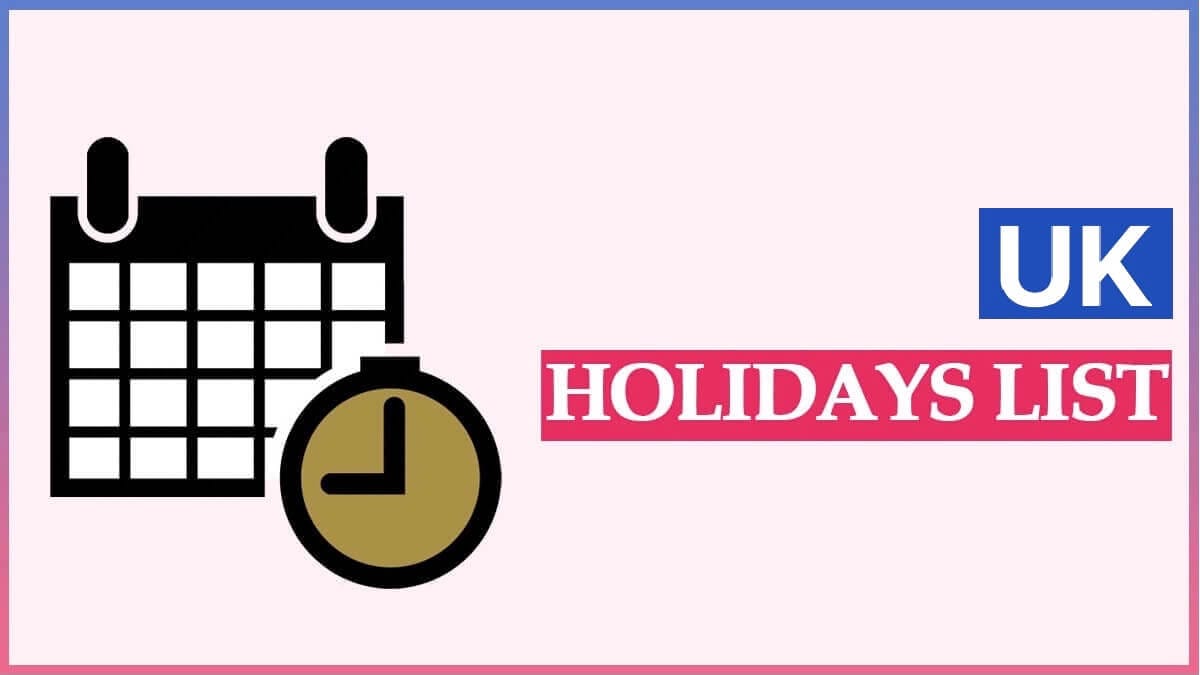 The list UK holidays 2022 official public holidays, bank holidays, government holidays, non woking national holidays and sectorial holidays. list of UK holidays is given below.
UK Holidays List 2022
The below list of UK Holidays 2022
| | | | |
| --- | --- | --- | --- |
| Date | Day | Name/details | Type |
| 01-Jan-22 | Sat | New Year 2022 | Bank/Official holiday |
| 03-Jan-22 | Mon | New Year's Day observed | Bank/Official holiday |
| 04-Jan-22 | Tue | 2nd January (substitute day) | Local Bank/Official Holiday |
| 05-Jan-22 | Wed | Twelfth Night | Observance |
| 06-Jan-22 | Thu | Epiphany | Christian Holiday |
| 07-Jan-22 | Fri | Orthodox Christmas Day 2022 | Orthodox |
| 14-Jan-22 | Fri | Orthodox New Year 2022 | Orthodox |
| 17-Jan-22 | Mon | Tu B'Shevat (Arbor Day) | Jewish holiday |
| 25-Jan-22 | Tue | Burns Night | Local observance |
| 01-Feb-22 | Tue | Chinese New Year 2022 | Observance |
| 14-Feb-22 | Mon | Valentine's Day 2022 | Observance |
| 28-Feb-22 | Mon | Maha Shivaratri 2022 | Hindu Holiday |
| 01-Mar-22 | Tue | Isra and Mi'raj | Muslim Holiday |
| 01-Mar-22 | Tue | St. David's Day | Observance |
| 01-Mar-22 | Tue | Carnival / Shrove Tuesday | Christian Holiday |
| 02-Mar-22 | Wed | Carnival / Ash Wednesday | Christian Holiday |
| 17-Mar-22 | Thu | Purim | Jewish holiday |
| 17-Mar-22 | Thu | St Patrick's Day | Local Bank/Official Holiday |
| 18-Mar-22 | Fri | Holi Festival 2022 | Hindu Holiday |
| 20-Mar-22 | Sun | March Equinox | Season Holiday |
| 27-Mar-22 | Sun | Mothering Sunday | Observance |
| 27-Mar-22 | Sun | Daylight Saving Time starts | Clock change/Daylight Saving Time |
| 03-Apr-22 | Sun | Ramadan Start (Tentative Date) | Muslim Holiday |
| 10-Apr-22 | Sun | Palm Sunday | Christian Holiday |
| 14-Apr-22 | Thu | Maundy Thursday | Christian Holiday |
| 15-Apr-22 | Fri | Good Friday | Bank/Official holiday |
| 16-Apr-22 | Sat | Holy Saturday | Christian Holiday |
| 16-Apr-22 | Sat | First day of Passover | Jewish holiday |
| 17-Apr-22 | Sun | Easter Sunday | Observance, Christian Holiday |
| 18-Apr-22 | Mon | Easter Monday | Observance |
| 18-Apr-22 | Mon | Easter Monday | Common local holiday |
| 22-Apr-22 | Fri | Orthodox Good Friday | Orthodox |
| 22-Apr-22 | Fri | Stephen Lawrence Day | Observance |
| 23-Apr-22 | Sat | Last day of Passover | Jewish holiday |
| 23-Apr-22 | Sat | Orthodox Holy Saturday | Orthodox |
| 23-Apr-22 | Sat | Shakespeare Day | Observance |
| 24-Apr-22 | Sun | Orthodox Easter | Orthodox |
| 25-Apr-22 | Mon | Orthodox Easter Monday | Orthodox |
| 25-Apr-22 | Mon | St. George's Day | Observance |
| 28-Apr-22 | Thu | Yom HaShoah | Jewish commemoration |
| 28-Apr-22 | Thu | Laylatul Qadr (Night of Power) | Muslim Holiday |
| 02-May-22 | Mon | Early May Bank Holiday | Bank/Official holiday |
| 03-May-22 | Tue | Eid ul Fitr (Tentative Date) | Muslim Holiday |
| 05-May-22 | Thu | Yom HaAtzmaut | Jewish holiday |
| 19-May-22 | Thu | Lag B'Omer | Jewish holiday |
| 26-May-22 | Thu | Ascension Day | Christian Holiday |
| 02-Jun-22 | Thu | Spring Bank Holiday | Bank/Official holiday |
| 03-Jun-22 | Fri | Queen's Platinum Jubilee | Bank/Official holiday |
| 05-Jun-22 | Sun | Pentecost | Christian Holiday |
| 05-Jun-22 | Sun | Shavuot | Jewish holiday |
| 06-Jun-22 | Mon | Whit Monday | Christian Holiday |
| 11-Jun-22 | Sat | Queen's Birthday | Observance |
| 12-Jun-22 | Sun | Trinity Sunday | Christian Holiday |
| 16-Jun-22 | Thu | Corpus Christi | Christian Holiday |
| 19-Jun-22 | Sun | Father's Day | Observance |
| 22-Jun-22 | Tue | June Solstice | Season Holiday |
| 22-Jun-22 | Wed | Windrush Day | Observance |
| 10-Jul-22 | Sun | Eid ul Adha (Tentative Date) | Muslim Holiday |
| 12-Jul-22 | Tue | Battle of the Boyne | Local Bank/Official Holiday |
| 30-Jul-22 | Sat | Muharram/Islamic New Year | Muslim Holiday |
| 01-Aug-22 | Mon | Summer Bank Holiday | Common local holiday |
| 07-Aug-22 | Sun | Tisha B'Av | Jewish holiday |
| 08-Aug-22 | Mon | Ashura (Tentative Date) | Muslim Holiday |
| 11-Aug-22 | Thu | Raksha Bandhan | Hindu Holiday |
| 15-Aug-22 | Mon | Assumption of Mary | Christian Holiday |
| 18-Aug-22 | Thu | Janmashtami (Smarta) | Hindu Holiday |
| 19-Aug-22 | Fri | Janmashtami | Hindu Holiday |
| 29-Aug-22 | Mon | Summer Bank Holiday | Common local holiday |
| 30-Aug-22 | Tue | Ganesh Chaturthi | Hindu Holiday |
| 23-Sep-22 | Fri | September Equinox | Season Holiday |
| 26-Sep-22 | Mon | Navaratri | Hindu Holiday |
| 26-Sep-22 | Mon | Rosh Hashana | Jewish holiday |
| 04-Oct-22 | Tue | Feast of St Francis of Assisi | Christian Holiday |
| 04-Oct-22 | Tue | Dussehra | Hindu Holiday |
| 05-Oct-22 | Wed | Yom Kippur | Jewish holiday |
| 08-Oct-22 | Sat | Milad un Nabi (Mawlid) | Muslim Holiday |
| 10-Oct-22 | Mon | First day of Sukkot | Jewish holiday |
| 16-Oct-22 | Sun | Hoshana Rabbah | Jewish holiday |
| 17-Oct-22 | Mon | Shemini Atzeret | Jewish holiday |
| 18-Oct-22 | Tue | Simchat Torah | Jewish holiday |
| 24-Oct-22 | Mon | Deepawali Festival 2022 | Hindu Holiday |
| 30-Oct-22 | Sun | Daylight Saving Time ends | Clock change/Daylight Saving Time |
| 31-Oct-22 | Mon | Halloween | Observance |
| 01-Nov-22 | Tue | All Saints' Day | Christian Holiday |
| 02-Nov-22 | Wed | All Souls' Day | Christian Holiday |
| 05-Nov-22 | Sat | Guy Fawkes Day | Observance |
| 13-Nov-22 | Sun | Remembrance Sunday | Observance |
| 27-Nov-22 | Sun | First Sunday of Advent | Observance |
| 30-Nov-22 | Wed | St Andrew's Day | Local Bank/Official Holiday |
| 08-Dec-22 | Thu | Feast of the Immaculate Conception | Christian Holiday |
| 19-Dec-22 | Mon | First Day of Hanukkah | Jewish holiday |
| 22-Dec-22 | Wed | December Solstice | Season Holiday |
| 24-Dec-22 | Sat | Christmas Eve | Observance |
| 25-Dec-22 | Sun | Christmas Day | Bank/Official holiday |
| 26-Dec-22 | Mon | Last day of Hanukkah | Jewish holiday |
| 26-Dec-22 | Mon | Boxing Day | Bank/Official holiday |
| 27-Dec-22 | Tue | Substitute Bank Holiday for Christmas Day | Bank/Official holiday |
| 31-Dec-22 | Sat | New Year's Eve | Observance |
UK Holidays List 2022
UK Holidays List of Bank https://www.gov.uk/bank-holidays
Read : List of Holidays 2022 PDF | Government & Gazetted Holidays List 2022