Employment Exchange is a great tool or platform provided by the Kerala Government for Welfare of people. Kerala Employment Exchange is proving seniority list for the people. People can see employment exchange seniority list at kerala government official portal.
The department has also released the district wise seniority list 2023 which is available on the official portal for the registration job seekers and individuals.
Employment Exchange Seniority List 2023
Seniority list for registered candidates at employment exchange for considering for considering to various jobs is listed below. In case of any complaints, regarding provisional list, please use the appeal option in the seniority list view and for final list, job seeker can report at the employment exchange directly with original certificates and ID card.
How to check Employment Exchange Seniority 2023 List Kerala
Complete process to check Kerala employment exchange seniority 2023 list district wise is given below step by step.
Step 1 : Visit National Employment Services Keralam e-employment exchange official portal http://eemployment.kerala.gov.in.
Step 2 : At home page, click on "View Seniority List" link.
Step 3 : Direct link http://eemployment.kerala.gov.in/pub/publicSeniorityList/seniority_list.
Step 4 : Select District, Exchange, Final or Provisional list.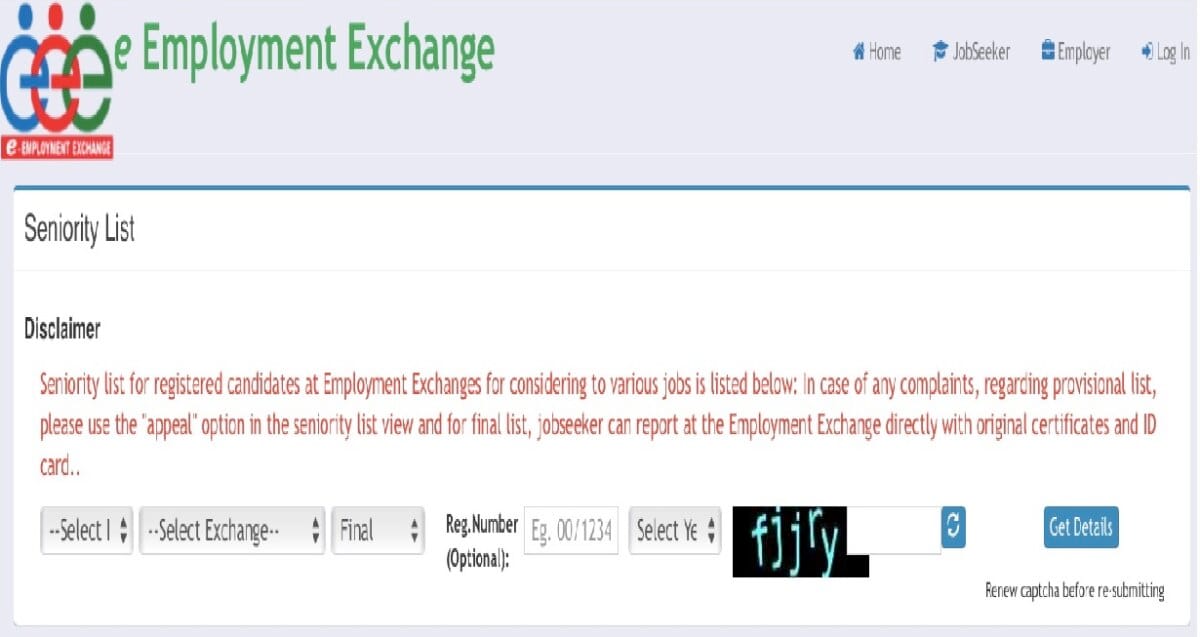 Step 5 : Enter Reg. Number, select year, enter given captcha and click on "Get Details" button.
Step 6 : Seniority List of selected district will open as shown below.
Overview of eemployment.kerala.gov Login
| | |
| --- | --- |
| Name of the Authority | National Employment Services Keralam |
| Eligibility Criteria | Qualified Candidates of Class 08th, 10th, 12th, and Relevant Certificates and Documents |
| Necessary Documents To Be Needed For Employment Exchange Registration 2021 | Aadhar Card, All Marksheets which required, Relevant Certificates, etc. |
| Services Provided By e-Employment Kerala Portal | the online process to register for an online employment exchange, login, and check Seniority List. |
| Helpline Number | You may check the district-wise helpline number from the below section. |
| Official Portal | eemployment.kerala.gov.in |
Employment Exchange Seniority List Overview
Helpline for Employment Exchange Seniority List 2023 Kerala
Kerala Employment Exchange Helpline Telephone Numbers District Wise.
| | | |
| --- | --- | --- |
| Trivandrum +91 8086363600 | Kollam +91 9495822263 | Pathanamthitta +91 7025714308 |
| Alappuzha +91 9946055244 | Kottayam +91 9495180634 | Idukki +91 9605860819 |
| Ernakulam +91 9400239551 | Thrissur +91 8301040684 | Malappuram +91 8943816209 |
| Palakkad +91 9495621499 | Kozhikode +91 8301931127 | Wayanad +91 8113939950 |
| Kannur +91 9497606298 | Kasargod +91 9747280634 | Employment Directorate +91 4712301249 |
Employment Exchange Helpline Numbers List
Read : Kerala Social Welfare Department Schemes List 2021 | Social Justice Dept Schemes PDF