Maharashtra Home Guard Duty List: Directorate of Home Guard of Maharashtra state has started a online portal to register and enroll as home guard in Maharashtra state. The guards of the state can check duty list by visiting the official website and login with their details to check home guard member's profile.
Home guards works as an assistant in the police department. Home guards has an important role in Maintaining law and order in Maharashtra state. Maharashtra Home Guard Duty list is issued every month by Directorate of Home Guards. Currently more than 45000 home guards are active in the state of Maharashtra. Check unit wise duty wise of home guards from the link given below in the table.
MH HG Duty List [Y] Overview
| | |
| --- | --- |
| Name of post | Home Guard |
| Name of Department | Maharashtra Home Guard Department |
| Status | Month wise Duty |
| Duty list | Maharashtra HG New Duty List 2023 |
| Apply Mode | Apply Online |
| Home Guard Registration Form | Click Here |
| Print Home Guard enrollment Form | Click Here |
| Home Guard Duty List 2023 | Click Here |
| Official Website | uphaar.up.nic.in |
Maharashtra Home Guard Duty List 2022 Overview
How to Check Maharashtra Home Guard Duty List [Y]
The home guards are currently paid ₹670 per day for 180 days of duty per year. The total strength of home guards in Maharashtra is 46251. The complete process to check Maharashtra home guard duty list is given below.
Step 1 : Visit Maharashtra Home Guards official portal www.maharashtracdhg.gov.in
Step 2 : At home page go to Right to Information and click on "Home Guard Member's Profile" link.
Step 3 : Direct link to check home guard duty list [Y] of Maharashtra state https://maharashtracdhg.gov.in/mahahg/pstdutyshow1.php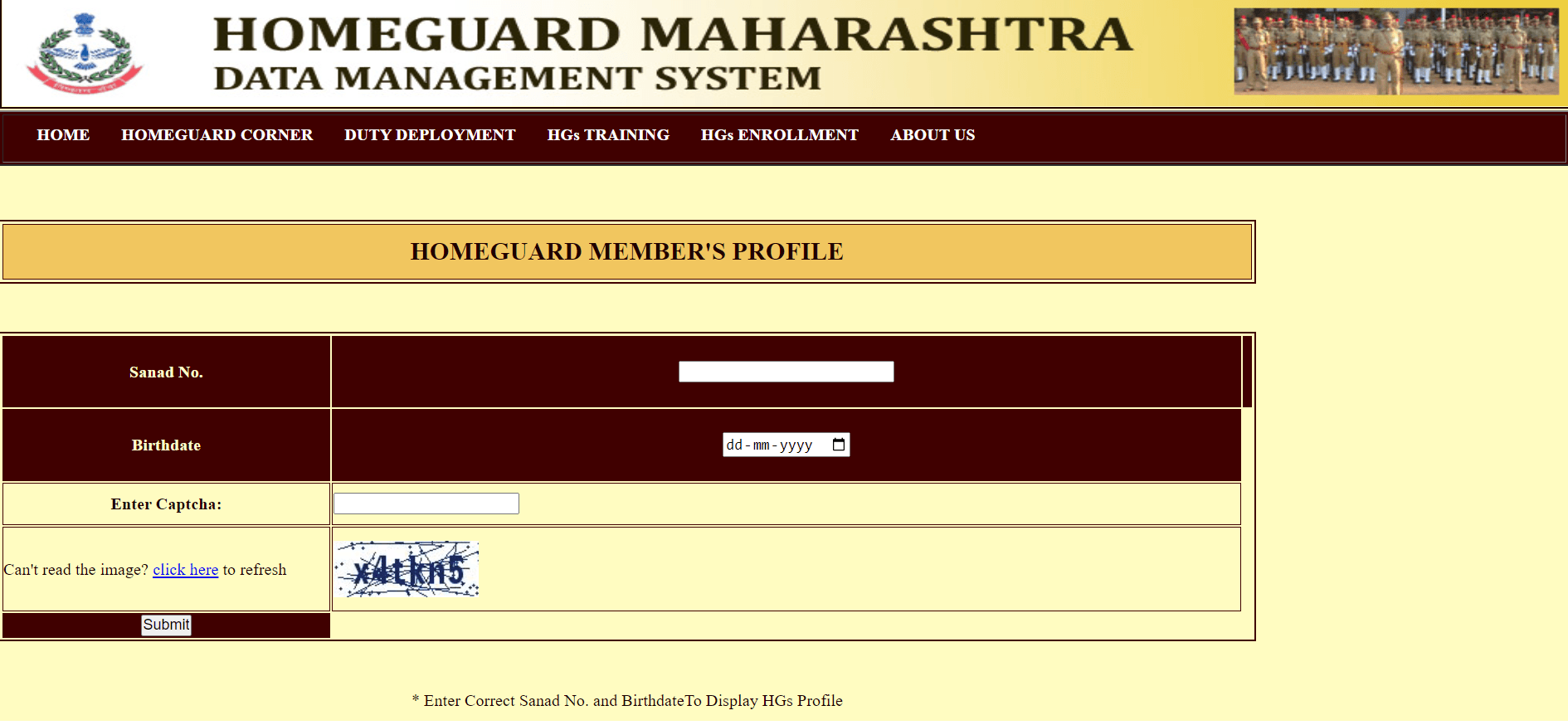 Step 3 : Login page will open as shown below.
Step 5 : Enter User Name, Sanad No, Birthdate, Captcha and click on "Submit" to check Home Guard duty list.
Benefits of Maharashtra Home Guard Duty
Home guards help in maintenance of essential services of the community in any type of emergency like air strikes, fire, cyclone, earthquake, pandemic etc.
Promotes communal harmony and helps the administration in participation in weaker sections, socio-economic and welfare.
Home guards reduce fights in government institutions, metro stations and in crowded areas.
Home Guard Training Schedule
Home guard training is divided into two type for 21 days each. Advance training course includes auxiliary Fire Fighting, 2.Frist Aid, 3.Disaster & Risk Management, 4. Flood Rescue, 5. Unarmed Combat (UAC) subjects. Leadership training includes Mansevi Nideshak, 2. Company Commander, 3. NCO Course which are completed in 21 days.
| Sr. No. | Training Type | Schedule | Syllabus |
| --- | --- | --- | --- |
| 1. | Advance Training | Total 21 Days, Working Days 17 | 1. Auxiliary Fire Fighting, 2.Frist Aid, 3.Disaster & Risk Management, 4. Flood Rescue, 5. Unarmed Combat (UAC) |
| 2. | Leadership Training | Total 21 Days, Working Days 17 | 1. Mansevi Nideshak, 2. Company Commander, 3. NCO Course |
Home Guard Training Schedule
Also Read:
Famous IAS Officers List of India 2022