GST State Code List PDF | GST State Code List in Excel | 22 Gst State Code | State Code of India | 97 GST State Code List | List of GST Code
The Goods and Services Tax Identification Number (GSTIN) is a 15 digit alphanumeric unique identification number provided to a taxpayer whoever registered under the GST. The first 2 digits of GSTIN represent the state Code. The GST state code is used by a taxpayer while registering for GST and entering invoice details in GSt Returns.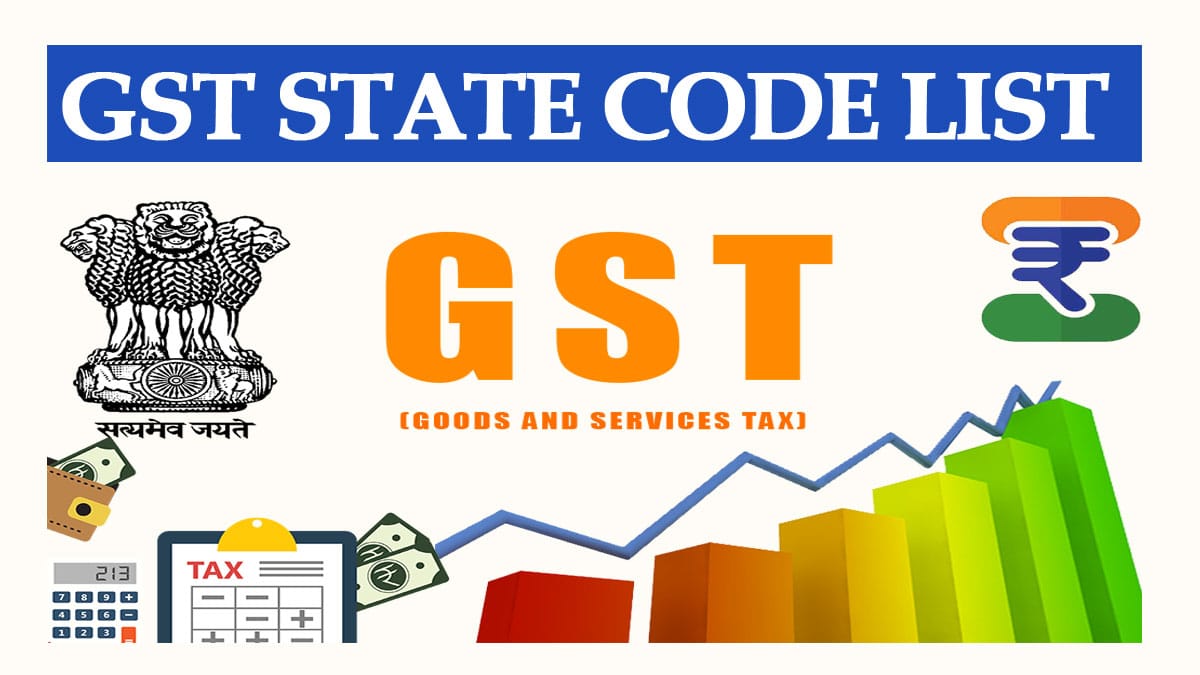 GST State Code List
The below list of all the GST State Codes.
| | | |
| --- | --- | --- |
| S. NO. | STATE NAME | STATE CODE |
| 1 | JAMMU AND KASHMIR | 1 |
| 2 | HIMACHAL PRADESH | 2 |
| 3 | PUNJAB | 3 |
| 4 | CHANDIGARH | 4 |
| 5 | UTTARAKHAND | 5 |
| 6 | HARYANA | 6 |
| 7 | DELHI | 7 |
| 8 | RAJASTHAN | 8 |
| 9 | UTTAR PRADESH | 9 |
| 10 | BIHAR | 10 |
| 11 | SIKKIM | 11 |
| 12 | ARUNACHAL PRADESH | 12 |
| 13 | NAGALAND | 13 |
| 14 | MANIPUR | 14 |
| 15 | MIZORAM | 15 |
| 16 | TRIPURA | 16 |
| 17 | MEGHLAYA | 17 |
| 18 | ASSAM | 18 |
| 19 | WEST BENGAL | 19 |
| 20 | JHARKHAND | 20 |
| 21 | ODISHA | 21 |
| 22 | CHATTISGARH | 22 |
| 23 | MADHYA PRADESH | 23 |
| 24 | GUJARAT | 24 |
| 25 | DADRA AND NAGAR HAVELI AND DAMAN AND DIU (NEWLY MERGED UT) | 26 |
| 26 | MAHARASHTRA | 27 |
| 27 | ANDHRA PRADESH(BEFORE DIVISION) | 28 |
| 28 | KARNATAKA | 29 |
| 29 | GOA | 30 |
| 30 | LAKSHWADEEP | 31 |
| 31 | KERALA | 32 |
| 32 | TAMIL NADU | 33 |
| 33 | PUDUCHERRY | 34 |
| 34 | ANDAMAN AND NICOBAR ISLANDS | 35 |
| 35 | TELANGANA | 36 |
| 36 | ANDHRA PRADESH (NEWLY ADDED) | 37 |
| 37 | LADAKH (NEWLY ADDED) | 38 |
List of GST State Code
Download List of all the GST State Codes in PDF format from below link
https://ddvat.gov.in/docs/List%20of%20State%20Code.pdf
For more information visit Goods and Service Tax official website https://www.gst.gov.in/
Read : All Bank IFSC Code List