Kerala Swasraya Scheme beneficiary list and online application from is available at Social Justice Department official website swd.kerala.gov.in. The state government of Kerala is going to provide financial assistance to parents / mothers of physically handicapped & mentally retarded persons under Swasraya Scheme. According to the guidelines of Kerala Swasraya Scheme 2022, financial assistance will be given to single mothers of PH / MR persons which will enable them to find self-employment. An amount of Rs 35,000 is being provided to the beneficiaries as one time assistance.
Kerala Swasraya Scheme will provide financial assistance to the parents and single mothers of the differently-abled person. This will let them work their day to day work in order to be independent. The assistance provided is basically a one-time access service. But the amount will surely ensure the caretaking cost of a child for some time till a caretaker could become independent in order to serve the duties for their special child. The implementation of this scheme is in the hand of the Social Justice Department of Kerala.
Kerala Swasraya Scheme Overview
Scheme Name
Kerala Swasraya Scheme
(കേരള സ്വസ്രയ പദ്ധതി)
State policy
KERALA STATE POLICY FOR PERSONS WITH DISABILITIES
Beneficiary
Caregiver and Differently-abled child
Scheme Objective
Financial Assistance to raise self employment opportunities.
State
Kerala
Department
Social Justice Department
Mode of application
Online/Offline
Amount offered
Rs 35,000
Times amount to be offered
One time assistance
Form to be submitted
District Social Justice Officer
Overview of Kerala Swasraya Scheme
Benefits of Kerala Swasraya Scheme
The social justice Department, Government of Kerala has launched Swasraya scheme.
Under this scheme financial assistance of Rs 35000 is provided to parents or mothers of physically handicapped and mentally retarded persons
This financial help will provide to beneficiaries as a one-time assistance
With the help of this financial help, the beneficiaries will be able to find self-employment
Application form to apply for this scheme is available in PDF format on the official website of social justice Kerala
The application form needs to be submitted to the district social justice officer along with all the required documents
With the help of Kerala Swasraya scheme, the parents of physically handicapped and mentally retarded person will able to perform their day to day activities
With the help of this scheme, the beneficiaries will become self-dependent
Now the beneficiaries can finance medical equipment, specialise in transport, medical care etc
The department of social justice Kerala will be responsible for the implementation of the Kerala Swasraya scheme
The district social justice officer will verify the filled application form and documents attached to it
After verification, the officer will approve the form and will transfer the benefit amount into the bank account of the beneficiary by the direct benefit transfer method
Eligibility Criteria for Kerala Swasraya Scheme
There are following eligibility criteria for applying Kerala Swasraya Scheme.
Applicant must be a permanent resident of Kerala
The applicant must belong to BPL family
This scheme is for those parents or mothers who are having children with 70% or more physical or mental disability
Single/unwed mothers/wives abandoned by husbands/legally divorced women/ separate women can take advantage of this scheme.
The beneficiary of aswasakiranam scheme can also take benefit of this scheme
The applicant is required to submit a detailed project report about the self-employment to the concerned district social justice officer
Close relatives who act as caretakers of the disabled or mentally challenged patient can also apply for this scheme
Mothers of severely disabled on the mentally challenged bedridden patient will be given priority
List of Documents Required for Kerala Swasraya Scheme
The below list of documents which are required for Kerala Swasraya scheme application form.
Aadhar card
Disability certificate
Ration card of below poverty line
Caste certificate
Residence proof
Mobile number
Passport size photograph
Bank account details
Kerala Swasraya Scheme Application Form 2023
Step 1: Visit the Kerala Social Justice Department official website http://sjd.kerala.gov.in/website_malayalam/index.php.
Step 2 : On homepage, click at the "Schemes" tab present in main menu or directly link sjd.kerala.gov.in/schemes.php.
Step 3 : At the opened page, click at the "Swasraya Scheme for parents / mothers of PH / MR Persons" link present at 26th number in the list of schemes.
Step 4 : At the opened scheme details page, go to the "Documents" section and click at the "Application Forms - Swasraya Scheme for Prarents (single mothers) of PH / MH persons" link as shown below or direct link http://sjd.kerala.gov.in/DOCUMENTS/Downloadables/Application%20Forms/21257.pdf.
Step 5 : The Kerala Swasraya Scheme application From PDF will open as shown below.
The applicants must submit the duly filled applications along with supporting documents to the concerned District Social Justice Officers. Upon subsequent verification of filled in application form along with documents, the concerned officer will approve your form. All the applicant parents / mothers of PH / MR persons will then get one time financial assistance under Swasraya Scheme directly into their bank accounts.
How to check Kerala Swasraya Beneficiary List
Step 1 : Visit Social Justice Department official website http://swd.kerala.gov.in/
Step 2 : At home page, go to scheme and click on Swasraya scheme for parents / mothers of PH / MR persons.
Step 3 : Click on Beneficiary details or direct link http://swd.kerala.gov.in/schemebeneficiary-info.php?benef.
Step 4 : Select financial year and district, as soon as you make the selection the list of beneficiaries will be on your computer screen.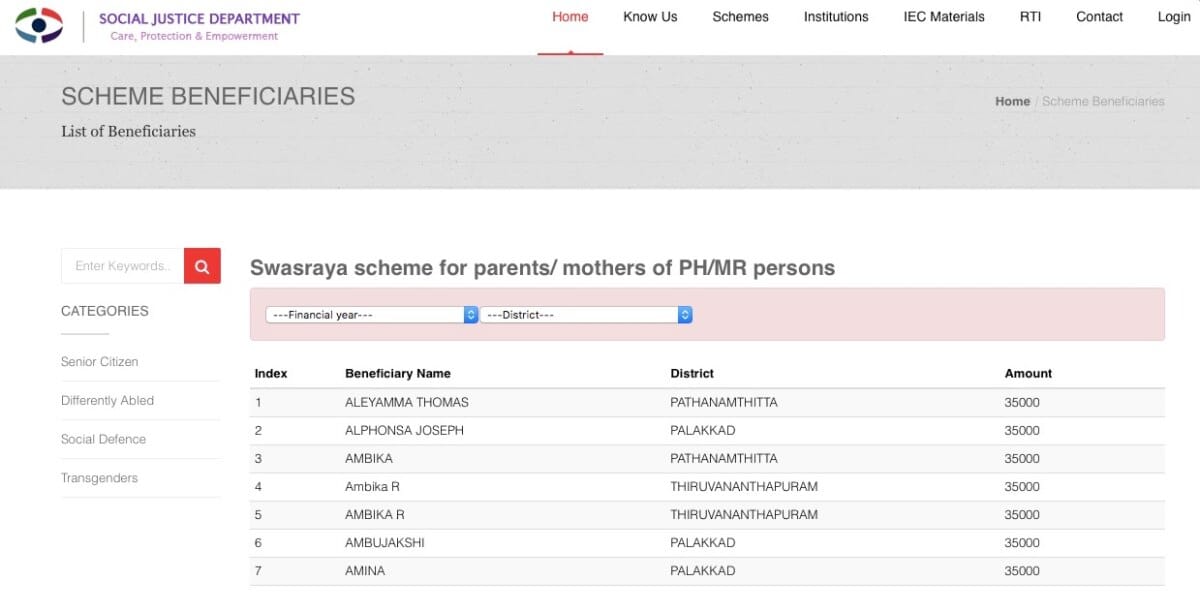 Read : Kerala Life Mission Beneficiaries List 2022 and Progress Report at lifemission.isgkerala.gov.in