MP Ladli Laxmi Yojana has been launched by the state government of Madhya Pradesh on 1st April 2007 to make the bright future of girls. Under Ladli Laxmi scheme, emphasis is being laid on improving the educational and economic status of girls. Madhya Pradesh government will provide financial assistance of ₹1,18,000 to the girl child of the state under this scheme.
The main focus of Madhya Pradesh Ladli Laxmi Yojana is to make positive changes in the society towards girls as well as to improve their educational and economic status so that the foundation of their future can be laid. I The benefit of this scheme will be provided to only those girls of poor families of the MP state who were born after 1st April 2008. interested candidates can apply online for Ladli Laxmi scheme at official website http://ladlilaxmi.mp.gov.in/
Madhya Pradesh Ladli Laxmi Yojana Name List 2023
The complete process to check whether the name of girl is in the list of MP Ladli Laxmi yojana certificate is given below.
Step 1 : Visit official website of Madhya Pradesh Govt. for Ladli Laxmi yojana portal ladlilaxmi.mp.gov.in
Step 2 : At home page click on certificate (प्रमाण पत्र) link or direct link http://ladlilaxmi.mp.gov.in/SearchGirls.aspx.
Step 3 : Select district, search type option (by girl name, girl's mother name, girl's father name, girl's registration number and girl child date of birth) and click on "Search" button.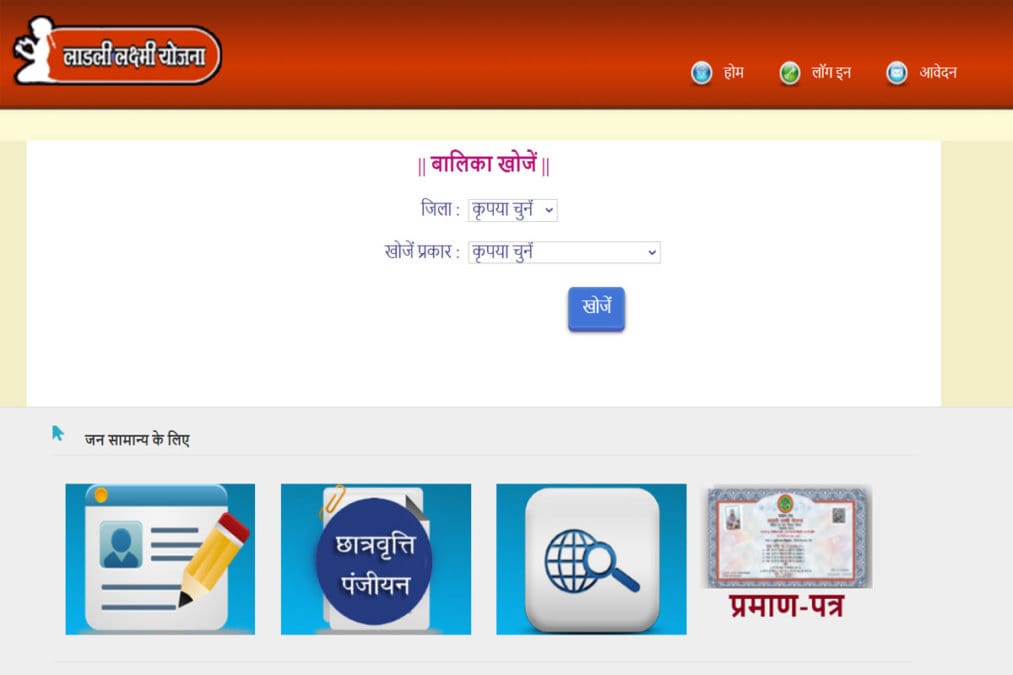 Step 4 : If you select girl's name option, selected district entered girl's names list with father's name, mother's name and date of birth will open as shown below.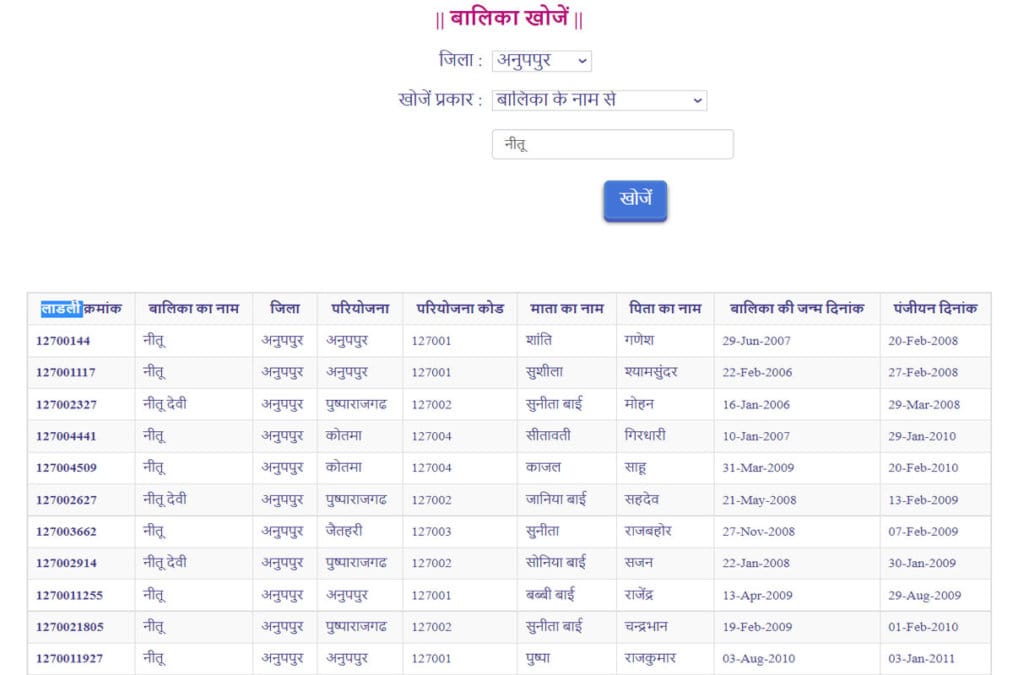 Eligibility List for Madhya Pradesh Ladli Laxmi Yojana 2023
The candidates must fulfill the following eligibility criteria for MP Ladli Laxmi yojana before applying scheme.
The girl's parents should have permanent resident of Madhya Pradesh state.
The girl's parents should not pay income tax to the government.
Applicant girl should be unmarried till the age of 18 years according to scheme.
In the case of 2nd girl child, before applying, the parents have adopted family planning.
The attendance of the beneficiary in the Anganwadi center should be regular only then the benefit of this scheme can be taken.
In a family where there is a 1st child or girl child and 2 twin girls are born on second delivery, then in such a situation both the twin girls will get the benefit of Ladli Laxmi scheme.
If your family has adopted an orphan girl, you can still take advantage of the scheme by considering her as the 1st girl child, but you must have any proof of adoption of that girl child.
List of Documents Required for MP Ladli Laxmi Yojana Application Form
There are following documents required for Madhya Pradesh Ladli Laxmi yojana online application form.
Girl Child Birth Certificate.
Domicile or Residence Certificate of Applicant Family.
Girl Parents Photo.
Bank Account Number, Copy of Bank Pass Book.
Identity Proof
Aadhaar Card or Ration Card.
Payment Installment List of MP Ladli Laxmi Yojana
How the installments are paid for the amount received under Madhya Pradesh Ladli Laxmi Yojana is follows.
1st Installment : ₹20000 when the girl child will take admission in 6th class.
2nd Installment : ₹4000 when the girl will enter in 9th class.
3rd Installment : ₹6000 when the girl will enter in 11th class.
4th Installment : ₹6000 when the girl will enter in 12th class.
Also Read :
MP Skill Development Scheme Courses List |Mukhya Mantri Kaushalya Yojana 2021