Sampoorna School List 2022 PDF | Sampoorna School Code List | Sampoorna Form for School Students | Sampoorna kite Kerala gov.in | Samagra Sampoorna Login
Sampoorna is a school management system project implemented by the Education Department Government of kerala to automate the system and process of over 15,000 schools in the state. The objective of Sampoorna school management software is facilitate the principals, Head Masters and teachers to easily implement, track and monitor all activities of the students of their school and that of the school itself.
Sampoorna School List
Sampoorna School Management Software was initially launched by KITE in 2010 as part its eGoverenace initiatives. SAMPOORNA has now been mandatory by the state govt for capturing details of all students from Study 1 to 12 class. The application has been developed by KITE entirely on a FOSS platform as, is a one-stop source for all details of students such as transfer certificate various reports, entry forms to name a few. Government has now directed all schools in the state including Government and Aided schools, CBSE, ISCE, Kindriya Vidyalayas and Recognized Un-Aided schools to capture complete details of their students only through Sampoorna. Sampoorna School List and Sampoorna School Code list can be downloaded from link is given below.
Download the list from below
https://sametham.kite.kerala.gov.in/search/districtWiseSchools/4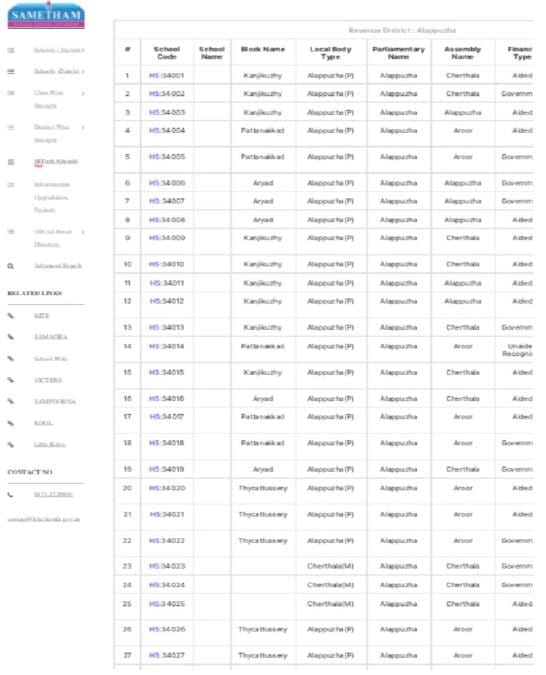 Comfirmed Rank List PDF for HM/AEO
Comfirmed Rank List for HM/AEO can be downloaded from the link given below in the PDF format
https://tandp.kite.kerala.gov.in/hmaeotransfer2021_22/index.php/public_view/confirmedranklist/1
Samagra Sampoorna Login
There are following steps to login Sampoorna.
Step 1 : Visit Sampoorna official website https://sampoorna.kite.kerala.gov.in:446.
Step 2 : Login page of Sampoorna will open as shown below.
Step 3 : Enter Username and Password
Step 4 : Now click on "Login" button to login the Sampoorna.
Read : eSkillindia Courses List 2021-22| Free Online NSDC Certificate Courses