The Government of Telangana has launched Aasara Pension Scheme for the people of state who are old aged (age 65 or above), widow, Disabled, Weavers, Toddy Tappers (who have lost their job with growing age) and persons having HIV AIDS. The main objective of this scheme is to support above mentioned citizens in living a life with dignity and social security. Now Beneficiaries of this scheme can check Telangana Aasara Pension List 2023 through the links given below.
The Government will transfer a amount of total ₹2016 to the beneficiary of the the Telangana Aasara Pension scheme who are old aged, widow, weavers, toddy tappers and persons with HIV AIDS, and a amount of ₹3016 to the physically Disabled people of the state through this DBT scheme (Direct Benefit Transfer).
| | |
| --- | --- |
| Name of Scheme | Telangana Aasara Pension Scheme |
| Disbursement of Pensions Dates | 1st to 7th every month |
| Beneficiary Status List of Aasara Pension | Click Here |
| Telangana Aasara Pension List | Click Here |
| Telangana Aasara Pension Status | Click Here |
| Acquittance Data Updating Status | Click Here |
| Official Website | https://www.aasara.telangana.gov.in |
Telangana Aasara Pension List Overview
Telangana Aasara Pension List
The Beneficiary of Telangana Aasara Pension Scheme can check status of their monthly pension online by following some steps. Telangana Aasara Pension List can be check district wise or village wise with all details like type of pension, pension ID, last released month, last released amount etc. The steps to check Telangana Aasara Pension List is given below.
Steps to Check Aasara Pension Status 2023
Step 1. First open the official website of Telangana Aasara Pension www.aasara.telangana.gov.in and at the home page of website click on "Quick Search" button and then "Search Pensioner Details" or click direct Link https://www.aasara.telangana.gov.in/SSPTG/UserInterface/Portal/GeneralSearch.aspx
Step 2. Then Enter Pension ID/UID/SADAREM ID and click on Search button to get details of your Aasara Pension Status. You can also find the List of Aasara Pension Beneficiaries by selecting District, Mandal, Panchayat, Pensioner Name, and Head of Family name.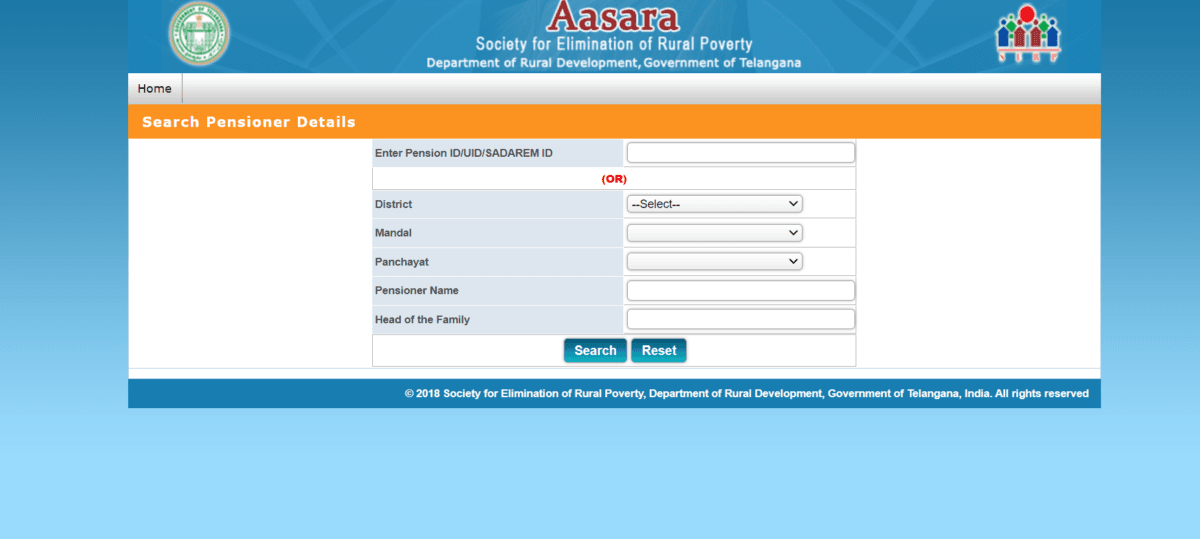 Telangana Aasara Pension Benefits
The amount of pension given under the Aasara Pension Scheme is listed below.
S.No
Category of Pensioners
Pension Amount
(Monthly)
1
Old Age
₹2016
2
Widow
₹2016
3
Disabled
₹3016
4
Weavers
₹2016
5
Toddy Tappers
₹2016
6
Person with HIV - AIDS
₹2016
Telangana Aasara Pension Amount List
Telangana Aasara Pension Eligibility List
The eligibility criteria of the Telangana Aasara Pension is given below in the table.
S.No
Pension Beneficiary
Eligibility Criteria
Documents Required
1
Old Age
Age should be 65 years or above
1. Date of Birth Certificate, documents for proof of age like Aadhar Card, Electoral Roll or Voter Card, Pan Card etc.
2
Weaver
Age should be 50 years or above
3
Widow
1. Age must be 18 years or above
2. Death certificate of her husband
3. Every year updating of re-marriage for young widows upto 45 years of age
1. The Death Certificate of the spouse is must to be eligible for widow pension
2. If death certificate is not available a local enquiry is made following which the death certificate as per the birth and death registration act will have to be obtained in the next 3 month. The Village secretaries will also certify every year that the beneficiary has not re-married.
4
Toddy Tappers
Age 50 years or above
Verification is made to confirm whether the beneficiary is registered member in the CO-operative Society of Toddy Tappers
5
Person with HIV-AIDS
Who are undergoing Anti Retroviral Therapy (ART)
1. Medical Certificate from the concerned Hospital as a proof that the person is a HIV-AIDS positive.
2. List of HIV-AIDS person can also be obtained from Anti Retroviral Therapy Center.
6
Differently Abled Person with disabilities
1. Disabled person having minimum of 40% disability under SADAREM assessment
2. For Hearing impaired persons, the minimum disability should be 51% (as per G.O.Ms No. 31 dt. 01-12-2009).
3. For minor child, the pension will be distributed to his/her parents.
1. SADAREM certificate is required showing 40% or more disability.
2. Minimum 51% disability on case of hearing disability

Telangana Aasara Pension Eligibility List
Social- economic conditions for Telangana Aasara Pension
Having Land less than 3 acres wet/irrigated dry or 7.5 acres dry.
No children with job in government/Public sector / Private sector employment/out sourced/ contract.
Children should not be Doctors, Contractors, Professional and self employed.
Not having Large business enterprise like oil mills, rice mills, petrol pumps, rig owner, shop owner etc.
should not be the owner of light or heavy automobiles.
Should not be receiving any other government pensions or freedom fighter pensions.
Documents required for Telangana Aasara Pension
Aadhar Card
Photograph
Saving Bank Account Number
Age certificate or Date of birth certificate
Death Certificate in case of widow
SADAREM certificate in case of person with disability
HIV- AIDS certificate in case of Person with HIV-AIDS
The identification of eligible pensioners will be done by the Gram Panchayat or Municipal/ Deputy Commissioner of the GHMC. After verification reports have been submitted by the verification officers, the MPDOs in rural areas, Tahsildars (Hyderabad district) / Municipal Commissioners in urban areas and Dy. Commissioners in GHMC areas shall. After following above process, Pension Card will be issued to Telangana Aasara Pension beneficiary.
Telangana Aasara Pension Helpline Number
For any query regarding Telangana Aasara Pension, you can contact on toll-free number 18004251980 or 08702500781
Also read
CEO Telangana Voter List PDF 2022 Search by Name | Download Voter ID at tsec.gov.in