Andhra Pradesh Women's Welfare Department has released YSR Cheyutha beneficiary list of women aged 45 to 60 from economic weaker section, BC/SC/ST/Minority castes. The amount of Rs. 18750 has been transferred to bank account of YSR Cheyutha women beneficiaries. The applicant who have applied for YSR Cheyutha government welfare scheme, now can check their beneficiary payment status and eligibility list.
Through YRS Cheyutha scheme, AP state government will helps in increasing the women empowerment rate in the state and help to implement numerous advantages to women. The objective to launch Cheyutha scheme is to benefit widows and single women of EWS category and women belonging to SC, ST, OBC and Minority Communities.
YSR Cheyutha Beneficiary List 2023 Payment Status & Eligibility
The government of Andhra Pradesh has launched YSR Cheyutha yojana to support families who are suffering from financial difficulties. Under YSR Cheyutha Scheme, Andhra Pradesh government is working towards creating employment possibilities for women in the AP state. The AP government has signed MOU with companies like Amul, Reliance and Hindustan Unilever Limited in order to strengthen the rural economy of Andhra Pradesh.
The AP govt. has announced a budget of Rs. 17000 crore for the implementation of YSR Cheyutha Scheme. The objective of launching YSR Cheyutha yojana is to empower women socially and economically by providing Rs. 75000 financial help to women over four years who are in the age group from 45 years to 60 years.
Name of Scheme
YSR Cheyutha
(Government Welfare Scheme)
Department
Women's Welfare Department
State
Andhra Pradesh
Launched By
Chief Minister Y. S. Jagan Mohan Reddy
Launched Date
12 August 2020
YSR Cheyutha Beneficiary
Women age between 45 to 60
(weaker social and economic sections)
Budget
Total ₹17000 crores
YSR Cheyutha 2023 Release Date
November 2023
Benefit
financial assistance of ₹75000 over the period of four years (18750 rupees each installment)
Total Beneficiaries
1st Phase - 24 lakh
2nd Phase - 24.95 lakh
3rd Phase - 26.39 lakh
YSR Cheyutha Payment Status
1st Installment paid on - 12 August 2023
2nd Installment paid on - 22 June 2023
3rd Installment paid on - 23 September 2023
YSR Cheyutha 2023 Release Date
23 November 2023
YSR Cheyutha 4th Installment release date
November 2023
Official website
https://www.apmepma.gov.in
AP YSR Cheyutha Beneficiary List
How to Check YSR Cheyutha Beneficiary List and Status
The complete step by step procedure to check YSR Cheyutha beneficiary list and payment status is given below.
Step 1 : Visit the official website of government of Andhra Pradesh at https://navasakam.apcfss.in
Step 2 : At the home page of official website click on YSR Cheyutha scheme link.
Step 3 : Direct link to check beneficiary list and payment status is given below.
Step 4 : District wise Cheyutha beneficiaries list will open as shown below.
Step 5: Now select your district name, village and
Note: The District collectors will verify the YSR Cheyutha beneficiary list and approve it after verification. The final list of beneficiaries will be displayed in the village/ward secretariat for continuous social audit.
List of Details Mentioned in YSR Cheyutha Beneficiaries Status
Name of Beneficiary
Aadhar Number of Beneficiary
Mobile Number
Name of Head of Family
Caste
Date of Birth
Family Income
Bank Account Number
YSR Cheyutha Payment Status 2023
The final list of YSR Cheyutha beneficiaries will be displayed in the village/ward secretariat for continuous social audit. Upon sanction of the amount by finance department the amount of benefit will be remitted into the bank account of the beneficiaries. The YSR Cheyutha beneficiary will receive SMS on their registered mobile number regarding remittance of payment amount.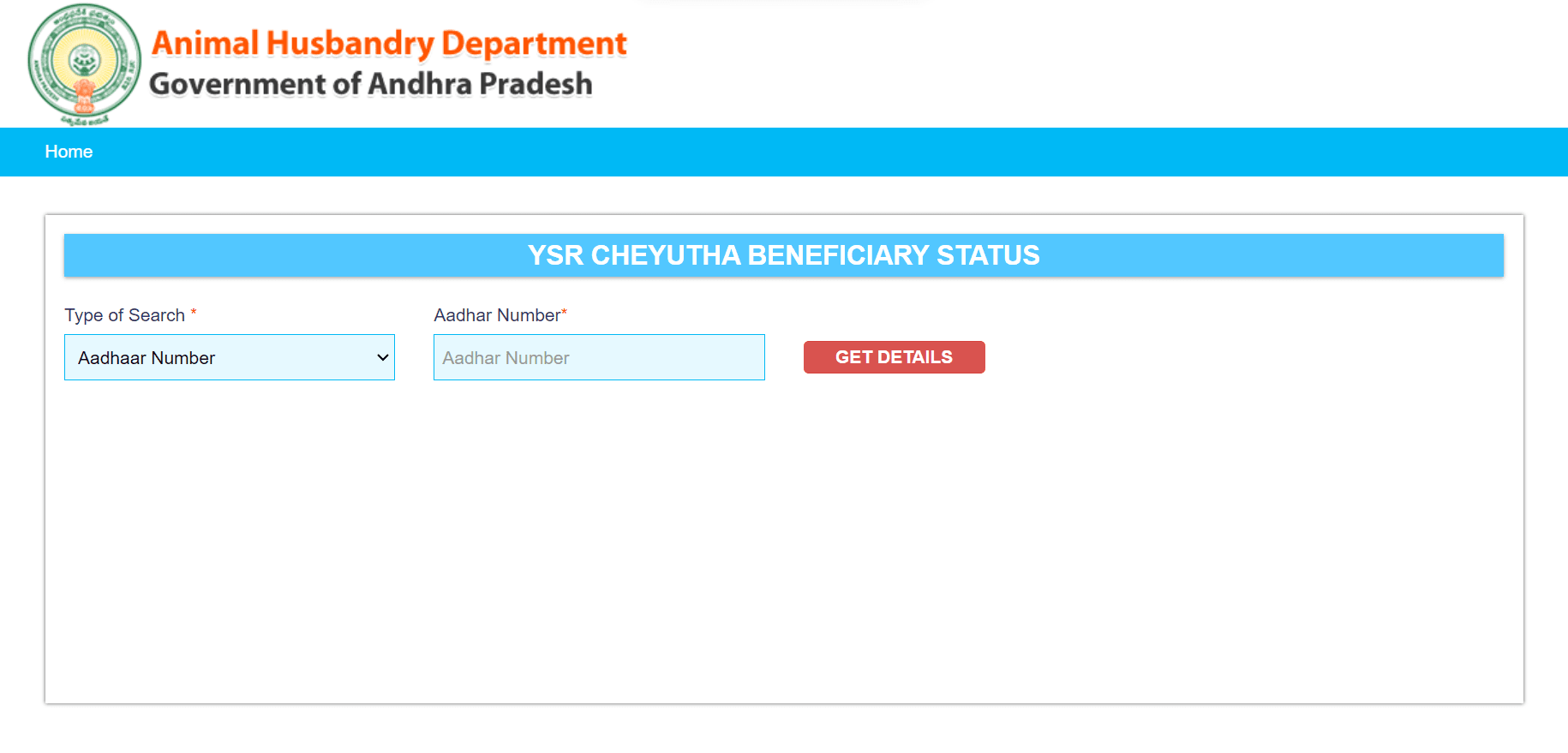 YSR Cheyutha 2023 Eligible List
There are following eligible criteria for Andhra Pradesh YSR Cheyutha Scheme 2023
Applicant women age should be between 45 years to 60 years
Applicant should be belong to SC/ST/OBC or minority community
Applicant should have resident of Andhra Pradesh state
Total land holding should not be more than 3 acres of wetland or 10 acres of dry land
No person in the applicant family should be a government employee
Applicant family should not have 4 wheeler
Monthly Power Consumption of the applicant should be less than 300 units per month
Family of sanitation worker is also eligible for YSR Cheyutha scheme
The women beneficiaries who are enrolled for YSR Pension Kanuka scheme are not eligible for this scheme
Annual family income should be less than 1,20,000/- in rural area and 1,44,000/- in urban area
No family member of applicant should be Income tax payee
The applicant women should not have residential or commercial property in municipal area more than 1,000 square feet.
List of Documents Required for YSR Cheyutha Scheme
Address proof or domicile certificate of Andhra Pradesh state
Aadhaar card as identity proof
Caste certificate of SC/ST/OBC/Minority Community
Age proof documents like date of birth certificate, 10th class marksheet, Aadhar card, PAN card or voter card.
Bank Account number, IFSC code and bank name
Bank account passbook
Recent photograph of applicant
Mobile number for registration
Objectives of YSR Cheyutha Scheme
The main objective of YSR Cheyutha scheme is extend financial assistance to women belonging to BC, SC, ST or minority community and are in age group of 45 to 60 years. This scheme helps in enhancing livelihood opportunities, income generation and wealth creation at household level for better standards of living.
The main objective of YSR Cheyutha Scheme is to provide financial support to women of age group (45 to 60) to make them financially independent women.
The assistance of ₹75,000 in fours years will be provided to women beneficiaries in four equal installments of ₹18750 each per year
The amount of benefit will be transferred to bank account of the beneficiary
YSR Cheyutha scheme provides livelihood opportunities, income generation and wealth creation to women of Andhra Pradesh state
It helps in enhancing level of living standards of women in age group 45 to 60 years
Read Also:
AP YSR Government Schemes List PDF | YS Jagan Schemes List