Gujarat Government Education Loan Schemes 2022 List| Education Loan Subsidy Schemes List 2022 | Govt. Education Loan Schemes in Gujarat PDF List | Govt. Education Loan Schemes List for Girl Students | Education Loan Eligibility List | Gujarat Government Education Loan Schemes Documents Required List
Gujarat Unreserved Educational & Economical Development Corporation (GUEEDC) will implement 8 schemes with an outlay of Rs. 600 crore. The 7 schemes are only for those people whose annual income is less than Rs.3 lakh per annul. Around 1.5 crore in the total 6.5 crore population of Gujarat state are not eligible for any type of reservation and thus are deprived of employment and education related benefits
List of Gujarat Government Education Loan Schemes 2022 for General / Unreserved Category
The below list of Gujarat Government education loan schemes for unreserved category.
Education Loan Scheme : Any person form general category can take loan of up to Rs. 10 lakh at 4% interest from GUEEDC for admission in self financed Medical College, Engineering College, Pharmacy College, Nursing College, Architecture College and other technical courses college. For this education loan, the annual income of the applicant family should not be exceed Rs. 3 lakh annual and applicant secured in 11th and 12th class must be more than 60%.
Foreign Studies Loan Scheme : GUEEDC provides education loan up to Rs. 15 lakh at 4% interest rate to studies in foreign counties. For this loan scheme, applicant family annual income must be less than Rs. 4.5 lakh and candidate must have secured minimum 60% marks in 12th class.
Tuition Assistance Scheme : The students of 12th class who have secured more than 70% marks in 1oth class and now studying in 11th and 12th class in science stream will get Rs.15000 as tuition fees from the corporation.
Food Bill Scheme : All the unreserved category students who are studying in private hostels will get monthly assistance of Rs. 1200 per month and for this scheme, the family income of the applicant should be less than Rs. 3 lakh annually.
Coaching Assistance for 12th Class : GUEEDC will provide finical assistance of Rs. 20,000 per year to students of science stream for preparation of entrance examination like NEET and JEE.
Coaching Assistance for Graduate Students : The students of general category who have completed their graduation degree and preparing for government competitive examination like UPSC and other exams can get assistance of Rs. 20,000 as a coaching fees.
Loans for Doctors and Advocates : All the doctors and advocates of general category can also avail loans up to Rs. 10 lakh to start their own clinics and offices.
Self Employment Loan Scheme : The sate government of Gujarat is focusing on creation of self-employment opportunities. Anyone who wants to start their own business such as grocery trade or transportation can get loans upto Rs. 10 lakh at 5% interest rate.
How to Apply for Govt. Education Loan Schemes In Gujarat
There are following steps to apply online for Gujarat government education loan schemes
Step 1 : Visit the official website of Gujarat Unreserved Educational & Economical Development Corporation https://gueedc.gujarat.gov.in.
Step 2 : At home page of the website, go to "Schemes" category and click on scheme for which you are applying.
Step 3 : Click on "Apply Now" button and login with Username and password, new user click on "New User (Register)" option, enter Email ID, Mobile No., Password, Re-enter Password, Captcha and click on "Submit" option.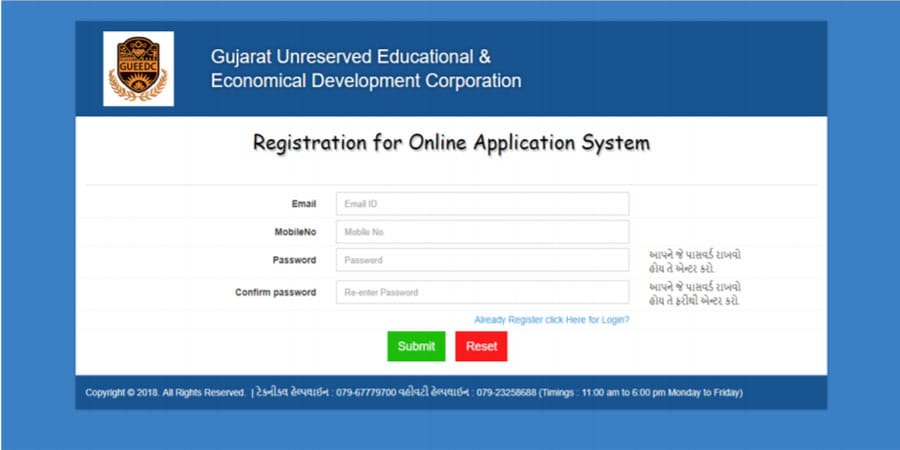 Step 4 : Fill all the details in form and upload photo, signature and documents in PDF, JPG, JPEG, PNG format
Step 5 : Click on Upload Document option and submit it.
Download Gujarat Government Education Loan Schemes Online Application Form / Registration Process Guidelines PDF file from below link
https://gueedc.apphost.in/PDF/faq.pdf
Helpline
Helpline number of Gujarat Unreserved Education & Economical Development Corporation.
Phone No. 079-23258688, 079-23258684
Also Read : Government Education Schemes Gujarat.