Krishak Bandhu List PDF 2021 | Krishak Bandhu Beneficiary List 2021 | Krishak Bandhu Prakalpa Name List 2021 | WB Krishak Bandhu Application Status Check Online | West Bengal Krishak Bandhu Scheme Helpline | WB Krishak Bandhu Death Benefit Form in Bengali | West Bengal Krishak Bandhu List PDF Download
The government of West Bengal has launched Krishak Bandhu Scheme in order to provide financial assistance to WB state farmers. The chief minister of West Bengal has decided to relaunched this scheme. On 17th June 2021, it was announced that the financial assistance under Krishak Bandhu Yojana will be doubled. Previously under this scheme, farmers useed to get Rs. 5000 per annum for land holding of 1 acre or more. Now farmers will get Rs. 10000 per annum doubling its benefits.
Krishak Bandhu List 2021
Through the implementation ofthe Krishak Bandhu Scheme, the famers of WB state region will get certain benefits such as assured income and also death benefits whenever or wherever they need it. The main objective of the Krishak Bandhu Scheme is to provide financial assistance to the West Bengal state farmers. Under the scheme along with financial assistance, a life insurance cover of Rs. 2 lakh will also be given to the beneficiaries. Through the West Bengal Krishak Bandhu Scheme around 68 lakh farmers of West Bengal state will be benefited.
How to Check WB Krishak Bandhu Beneficiary List
There are following steps to check West Bengal Krishak Bandhu list of beneficiary.
Step 1 : visit official Krishak Bandhu website https://krishakbandhu.net.
Step 2 : Home page of the website will open as shown below, click on the tab named Krishak Bandhu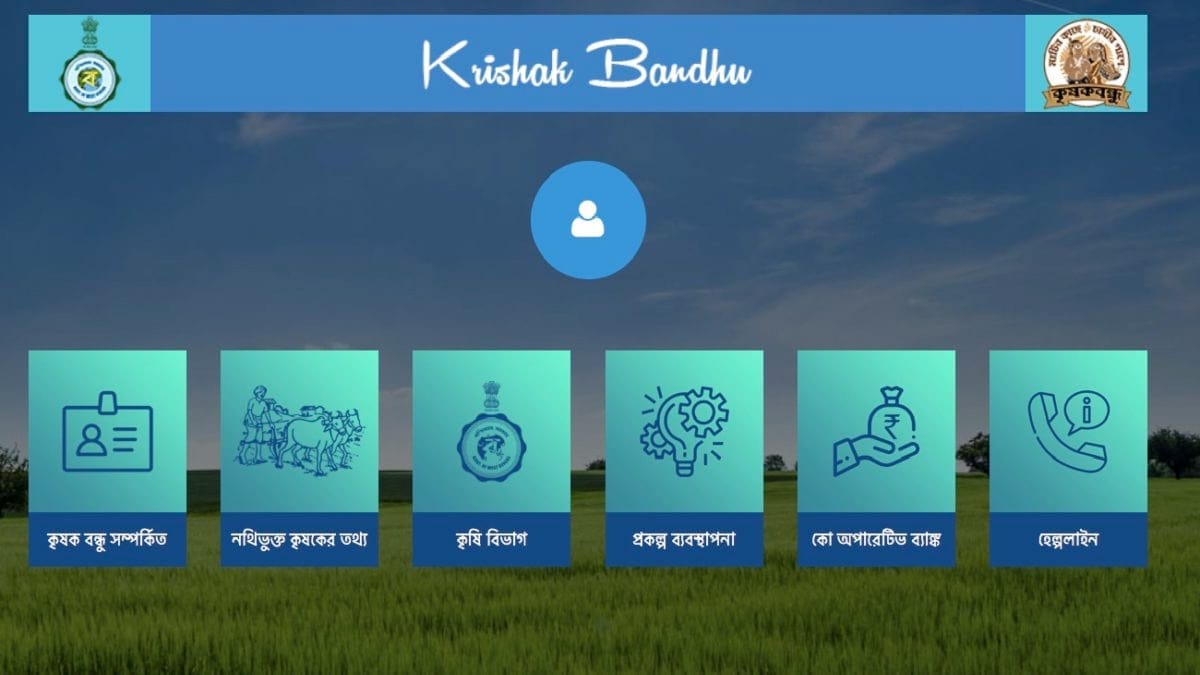 Step 3 : Now login with User Name and Password.
Step 4 : After login, click on the search beneficiary and select your block and district.
Step 5 : Final list of beneficiaries will open download it.
Krishak Bandhu Death Benefit
Under Krishak Bandhu Death Benefit Scheme farmer family will be face-lifted one time lump sum 2 lakh. Farmer's personalized authenticated DOA specifted database captured digitally, stored in Krishak Bandhu Cloud analysed and digitally verified with L& LR database synchronization by DOA officers. This system verified authenticated data shared with state & district co-operative banks by DOA for direct benefit disbursement. Personalised "Krishak Bandhu" digital Smart Card will be given to farmers to authenticate beneficiaries, for all further Govt. assistances in future.
List of Documents for Death Benefit Claim
There are following documents required for Death Benefit Claim
ID Proof Attested Copy (Voter Card, Aadhar Card, Driving License, Pan Card, Passport etc.)
Death Certificate Attested Copy
Krishak Bandhu Card Attested Copy
Self-Declaration of Applicant Attested Copy
ROR Attested Copy
Legal / natural guardian declaration in case of minor claimant
Death Benefit Application Claim Form PDF
West Bengal Krishak Bandhu Scheme death benefit claim application form PDF can be downloaded from below link.
http://matirkatha.net/wp-content/uploads/2016/01/Application-form-English.pdfhttp://matirkatha.net/wp-content/uploads/2016/01/Application-form-English.pdf
Helpline
For any query related to Krishak Bandhu Scheme contact to Direct Helpline Number 8336957370, 8597974989, 6291720406 from 10:00 A.M to 6:00 P.M
or email at [email protected]
Read : pmkisan.gov.in New List 2021 PDF | प्रधानमंत्री किसान सम्मान निधि योजना लिस्ट