Ministry of Home Affairs has prepared SECC 2011 BPL list on the basic of income and family status of people in census taking place across the country. SECC list 2011 is issued by central government on the recommendation of Registrar and Census Commissioner of India. The beneficiaries of Below Poverty Line (BPL) can check their name in BPL list 2023 state wise data at regional official portals of state and central government through the links provided in this article.
The Ministry of Rural Development, Government of India started the Socio-Economic and Caste Census (SECC) in June 2011 through a comprehensive door-to-door enumeration across the country. This is the first time such a complete exercise has been carried out for both rural and urban India. It is also expected to generate a notification on a large number of social and economic indicators relating to households across the country.
SECC 2011 BPL List 2023 -State Wise BPL Family List
The complete state wise list of BPL families can be checked by citizens of the country at official website of state's government or at SECC 2011 portal. The inclusion or exclusion of a family in the BPL list is already done in the Socio-Economic Caste Census 2011 data. The complete state wise list of BPL households/family can be downloaded from the respective state department's website. There are total 24.49 Crore households included in BPL family list from both rural and urban areas. The government of India under SECC data excluded total 7.07 crore households and 15.95 lakh new households are included automatically to the SECC BPL list 2023.
Article Name
Socio Economic and Caste Census
(SECC-2011)
Department
Department of Rural Development
Category
State Wise BPL List 2023
Total Households
24.49 Crore
Total Rural Households
17.97 Crore
Total Urban Households
6.51 Crore
Total Excluded Rural Households
7.07 Crore
Automatically included Rural Households
15.95 Lakh
Official Website
https://secc.gov.in
SECC 2011 BPL List Overview
SECC BPL List 2023 - Sate Wise BPL Family Records
SECC 2011 BPL list is available for all state and union territories and can be checked through the respective state and UTs department website's links given below. The citizens of India can find their name in the gram panchayat wise SECC 2011 BPL list 2023 records. The families included in BPL list can take advantage of various government schemes by central and state government.
Tamil Nadu TIPPS List 2023 – TN BPL List PDF Download
SECC 2011 BPL List Parameters
SECC 2011 BPL list for rural and urban area is based upon 13 parameters listed below.
Landholding
Type of House
Clothing
Food Security
Sanitation
consumer durable
Literacy
Status
Labour Force
Means of Livelihood
status of Children
Type of Indebtedness
Reasons for Migrations
Inclusions and Exclusions of SECC 2011 BPL List
BPL List Exclusions SECC 2011
Total excluded households 7.07 crore (39.35%)
Motorized 2/3/4 wheeler/fishing boat.
Mechanized 3-4 wheeler agricultural equipment.
Owning at least 7.5 acres of land or more with at least one irrigation equipment.
Kisan credit card with credit limit of over Rs. 50,000/-
Household member government employee.
Households with non-agricultural enterprises registered with government.
Any member of household earning more than Rs. 10,000 per month.
Paying income tax.
Paying professional tax.
3 or more rooms with pucca walls and roof.
Owns a refrigerator.
Owns landline phone.
Owns more than 2.5 acres of irrigated land with 1 irrigation equipment.
5 acres or more of irrigated land for two or more crop season.
BPL List Inclusions SECC 2011
Total included households 15.95 lakh (0.89%)
Households without shelter.
Destitute, living on alms.
Manual scavenger families.
Primitive tribal groups.
Legally released bonded labour.
How to Download SECC 2011 BPL List PDF
The complete step by step process to check SECC 2011 BPL list is given below.
Step 1 : First visit Socio Economic and Caste Census (SECC) official website to check SECC 2011 list
Step 2 : At the home of official website go to "State wise & Zone-wise" and click on "SECC Data Summary".
Step 3 : State and zone wise BPL list will open as shown below.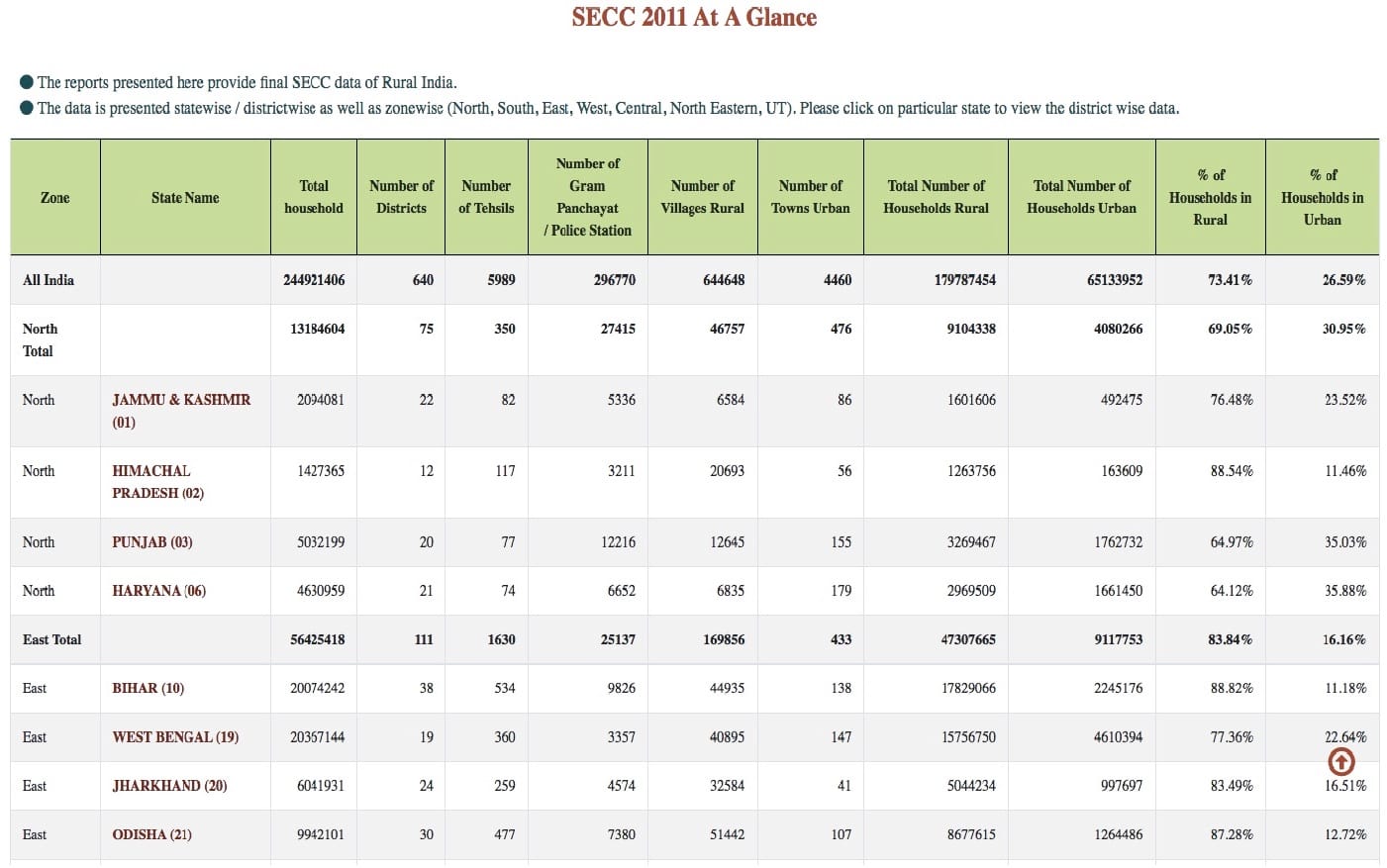 Step 4 : Click on state then you will see SECC list 2011 data summary.
Step 5 : SECC 2011 final list contains the total number of district, total number of villages, number of towns, total number of households rural and all other data of states of country.
Also Check BPL Ration Card List:
State wise Update New ration Card List 2023