Andhra Pradesh YSR Government Schemes List 2023 PDF is now available online. This list includes the public welfare schemes launched by AP state government after Y.S Jagan Mohan Reddy came to power in May 2019.
AP YS Jagan Government Schemes List includes name of some flagship schemes like Rythu Bharosa, Cheyutha, Amma Vodi, Matsyakara Bharosa, Vidya Kanuka, Vasathi Deevena, Vidya Deevena, Thodu, Bima, Chedodu, Naadu Nedu among others.
AP YSR Government Schemes List 2023
The schemes mentioned in the YS Jagan Schemes List 2023 are benefiting the people in one way or another in Andhra Pradesh. People can check the complete AP YSR Government Schemes List and can apply online for these schemes to become a beneficiary and avail its benefits.
AP YSR Government Schemes List 2023
YSR Rythu Bharosa
YSR - PM Fasal Bima Yojana
Sub Mission on Agriculture mechanisation
YSR Jagananna Housing Colonies
YSR Cheyutha
Rashtriya Krushi Vikasa Yojana (RKVY)
YSR Matsyakara Bharosa
Amma Vodi
YSR Badugu Vikasam
YSR Pasu Nasta Parihara Padakam
Price Stabilization Fund
Y.S.R Interest free Loans to Farmers
YSR Free Crop Insurance
Pradhan Mantri Krishi Sinchayi Yojana (PMKSY)
Supply of Seeds to Farmers
YSR Nethanna Nestham
Agriculture Market Infrastructure Fund (AMIF)
YSR - Agri Testing Labs
YSR Jagananna Saswatha Bhoomi Hakku Bhoomi Rakshana Pathakam
Exgratia to Farmers
Teaching Grants
NAADU NEDU - Infrastructure Facilities in Schools
YSR Arogya Raksha
Samagra Shiksha
Jagananna Gorumudda - MDM
Jagananna Vidya Kanuka
Government Junior Colleges
Government Schools
Jagananna Vidya Deevena
YSR EBC Nestham
YSR Sunna Vaddi Panta Runalu
Government Residential Schools
National Health Mission
YSR Vahana Mitra
Dr. Y.S.R Aarogyasri & Drug Purchase
Naadu Nedu - Hospitals
YSR Rythu Seva Lo Upadhi Mitra
YSR Asara
Assistance to APVVP
Combating Covid-19
YSR Jala Kala Scheme
COVID 19 Vaccination
104 & 108 Services
YSR Pension Kanuka
YSR Kanti Velugu
Sanitation in APVVP Hospitals
Kidney Research Centre, superspeciality hospital at Palasa, Srikakulam District
YSR Adarsham
Pradhan Manthri Awas Yojana (Urban)
Pradhan Manthri Awas Yojana (Grameen)
Gruha Vasati
YSR Pelli Kanuka
Subsidy on Rice (Human Resources Development)
YSR Vasathi Deevena
Grid connected Solar BLDC Pump Sets Scheme
Jagananna Palle Velugu Scheme
Door Delivery of Rice
YSR Law Nestham
Incentives for Industrial Promotion
Jagananna Chedodu
YSR Electronic Manufacturing Cluster (YSR EMC)
YSR Navasakam
Kadapa Steel Plant
Jagananna Thodu
Andhra Pradesh Industrial Infrastructure Corporation
YSR Navodayam
Infrastructure Development of Micro Small and Medium enterprises (MSMEs)
YSR Sampoorna Poshana
YSR Sampoorna Poshana & Plus
Disha
Naadu Nedu - Anganwadis
Surya Shakti
Machilipatnam Port
Ramayapatnam Port
Andhra Pradesh Digital Corporation Limited (APDC)
Bhavanapadu Port
Regional Air Ports
Vijayawada Air Port
Sagarmala Project
Special Development Package
YSR Pedalandariki Illu
Pulivendula Area Development Agency
Chief Minister Development Fund
YSR Bima
YSR Kapari Bandhu
Incentives to Imams and Mouzans
Incentives to Pastors
YSR Jeeva Kranthi
YSR Kapu Nestham
Incentives to Archakas
Re-Survey of Land
Andhra Pradesh YS Jagan Schemes List PDF - How to Download
Here is the complete process of how to download AP YS Jagan Schemes List in PDF format:-
STEP 1: Firstly visit the official website at https://www.apfinance.gov.in/Budget2122/index.html
STEP 2: At the homepage, click at the "Budget Speech-English" tab under "About Budget 2021-22" section or directly click the link - https://apfinance.gov.in/uploads/budget-2021-22-books/SpeechEnglish.pdf
STEP 3: The entire AP Budget Speech comprising the AP YSR Government Schemes List would open online. Here we are presenting you a snapshot of the 43rd page (total 51 pages) of YS Jagan Schemes List PDF containing the list of major AP Government schemes.
STEP 4: You can even give a command by hitting at "CTRL+P" buttons on your keyboard to Print AP Government Schemes List.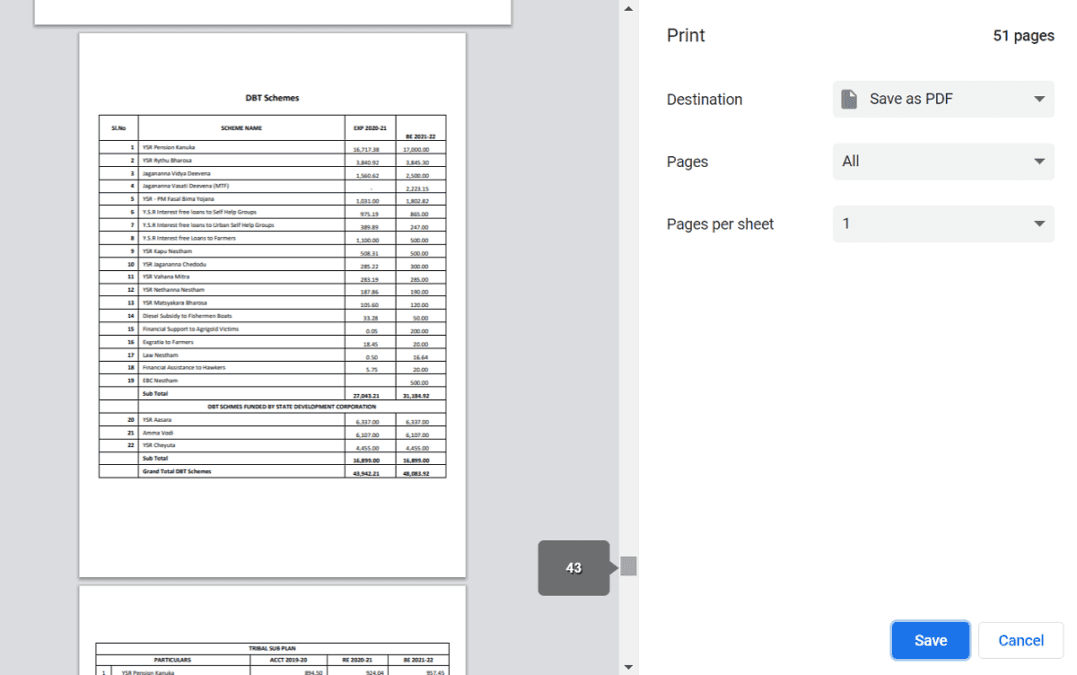 STEP 5: Select the destination to "Save as PDF" and then click at "Save" button to save the AP YSR Government Schemes List PDF file on your desktop / laptop and print it.
YSR New Schemes Allocation in Budget
In order to check allotment of budget for schemes, all the citizens can visit the official website of AP Finance Department. People can simply click the link given here to check budgetary allocation of schemes made by the current state govt. of Andhra Pradesh led by CM YS Jagan Mohan Reddy:- https://www.apfinance.gov.in/Budget2122/
Andhra Pradesh Budget is the statement of the financial plan of the government for the current year. It gives an insight into the income and expenditure of the government during this financial year. Andhra Pradesh, India's Sunrise State has several policies and programs to implement in the overall task of performing its functions to meet the objectives of social and economic growth.
To implement these policies and schemes mentioned in AP YSR Government Schemes List, it is imperative to find out all possible sources of getting funds so that sufficient revenue can be generated to meet the mounting expenditure. This expenditure would be used for implementing public welfare schemes in AP state as mentioned in the AP Budget speech.
Helpline
Toll free Number: 1902
Email: helpspandana-ap[at]ap[dot]gov[dot]in
For more details on AP YSR Government Schemes List, visit the website - https://www.ap.gov.in/